At Dr. Kohanov Optometry we provide a range of eyewear and eyecare services. We invite you to visit our practice to experience the expertise and service you deserve. With our newest technology "Spec Tech" we now can show you in real time what colors Transitions lenses come in, how they change color, what Glare Free lenses are and how they can benefit you. We can show you the difference between a line bifocal and a progressive bifocal and show you how each works. Spec Tech will even show you how thin your lenses can be. We can also take your photo for comparison as you try on frames to make your decision easier. We'll even email photos to a friend for you! Spec Tech will assist in building the perfect set of lenses for your individual needs.
Comprehensive Eye Examinations
Frames, Sporting Glasses and Sunglasses
Contact Lenses
Optical Dispensing, Repairs and Adjustments
What to Expect Upon Your Visit
Upon your arrival, our receptionist will welcome you as a member of our practice. If you haven't already done so online, we will ask you to complete a few forms. This paperwork provides us with your health history and other information related to providing you with the best vision solutions. To fill out the appropriate paperwork, please visit our Patient Center.
We've included a list below of the most commonly asked questions about coming in for an eye exam.
Why is my personal background important?
The doctor will review any current vision problems, your general health, as well as discuss your hobbies and lifestyle requirements to better tailor the examination to your needs.
What can I expect from the overall exam?
In addition to determining your prescription, or how well you see up close and far away, your eye examination will also check to make sure your eyes are healthy. The doctor will test your color vision, depth perception, as well as check for any early indicators of possible eye disorders, such as cataracts, retinal problems and glaucoma. Ultimately, the elements of your exam will be determined by the doctor.
Why does the doctor ask me, "Which is better, one or two?"
These questions will be asked during the portion of the examination when your prescription is established. The doctor will ask you to compare a series of lenses to determine which is clearer for you. As the differences become less noticeable, the doctor will be closer to finalizing your prescription. For this reason, if you're having a hard time choosing between the options, it's a good thing!
Why is it necessary to know my blood pressure?
High blood pressure can affect the blood vessels in your eyes and can lead to future vision problems.
Why am I asked to follow a light with my eyes?
This test is used to determine how your pupils and eye muscles react, and is important in assessing neurological function.
Is it necessary for doctor to dilate my pupils during the exam?
Pupil dilation is not always necessary. The doctor will make this decision during your exam. If required, this painless process is like opening a door so the doctor can fully exam the retina. Dilation can also help detect diseases like diabetes, high blood pressure and macular degeneration.
Office Hours

*Closed 12:30 - 1:30 for lunch
Other times available by appointment.
Spec Tech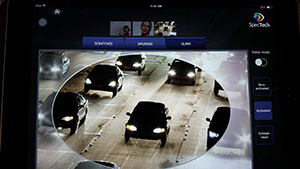 We are excited to offer SPEC TECH, the newest in technology! We can now show our patients every option there is to build the perfect set of lenses for your individual needs!
Referral Rewards Program
We want to help more patients like you!
Please ask us about our referral rewards program and how you and the customer you refer will be rewarded.